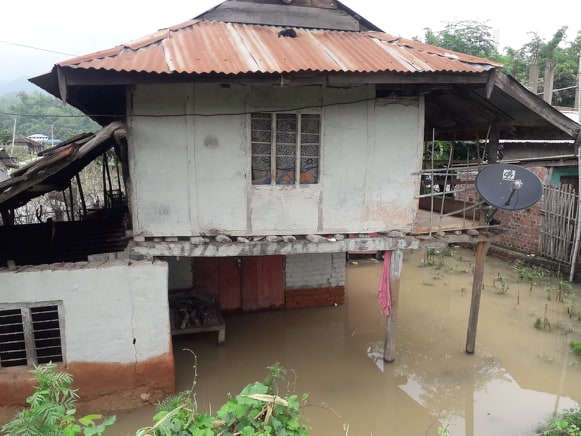 Monsoon Flood Situation Updates
21 Jul 2019
Date: 21st July 2019
Situation Overview
Monsoon rainfall from 11 July 2019 resulted in flooding and landslides in the different part of Nepal, particularly in Provinces 1, 2 and 3. According to Situation Report published in As of 18th July by the Ministry of Home Affairs (MoHA) death-toll is 90 deaths, 29 are missing, and 41 injured.
The detail Disaster Assessment (IRA) is not completed yet. However, as per the update from MoHA, as of 18th July, 36,728 households have been affected, whereas 13,101 households have been displaced, 9,984 households have been fully damaged, 19,891 have been partially and 5,873 have been generally affected. Actual data is still not available because of inaccessibility to reach the affected area because of landslides, damaged road, and flood. The government claims to be rushing rescue and relief operations to the flooded areas, but local media reports indicate that efforts are slower and victims are left to deal with the disaster on their own.
The disaster assessment report shows that Sunsari, Morang, Udayapur in Province 1, and Siraha, Sarlahi, Rautahat, Mahottari in Provence 2. The recorded highest rainfall for 24 hrs (11-12 July) was 311.9 mm at Simara, Bara District, and 245 mm in Janakpur. All the most affected districts of province 1, Siraha and Janakpur districts of province-2 are the working districts of the WOREC.
WOREC took an urgent action to support in relief and recovery of the flood survivors. A rapid response team has conducted rapid assessment through a gender lens in coordination with the District Disaster Response Committee (DDRC) to figure out the condition of people especially of women and children, pregnant and lactating women and adolescent girls, and the people in dire need. At the federal level, WOREC is a member of the protection cluster, where WOREC is sharing the updates of the flood and its impact on the girls and women. This will support humanitarian actors to identify the most required action to support flood victims.
It has been observed that major rivers such as Kankai, Sapta Koshi, Budi Ganga, Balaan Kamala, Lakhandehi, Bagmati, have been flooded as water is flowing above the danger mark, causing destruction. The bridges and roads of different locations are interrupted in the Udayapur Gaighat-Khotang, Katari-Okhaldhunga, Mohattori Janakpur-Jaleshwor, Mechi highway, Kanti Lokpath(Hetauda), Kulekhani-Phakhel-Farping, Indrasarobar Phakhel-Kathmandu etc, creating a severe crisis in the affected districts and its periphery. Floodwaters have receded in most areas, and following the repair works major highways are operational. However, rural roads in some area of the southern parts of Terai districts remain inaccessible and water-logging and associated damages in some locations in the southern part of Saptari, Rautahat and Mahottari continue to pose operational challenges.
Furthermore, though the full extent of the disaster is not yet known, the updates received from our district offices show the following miserable condition recorded due to this natural fury-
Sunsari :
Around 200 households are fully damaged and about 1,00 households have been displaced. WOREC identified 75-pregnant women, 60-lactating women and more than 100 children who are in need of urgent support through a female-friendly space.
WOREC had established the "Sneh Kendra", a female-friendly space (FFS) two years back in Duhabi Municipality-Sunsari which was handed over to the local government. The local government felt the immediate need of FFS and now it has been in operation. From this FFS, pregnant and lactating women are receiving support.
In Dhanusha-Janakpur sub-metropolitan city Ward number 21, about eighty Musahar Community have been displaced. The effect of the flood has not been yet updated.
Siraha :
In Siraha-Warda number 1,2,3,4 and 5 of Aurahi Rural Municipality about 45 households have been flooded. Around 160 households have been displaced. The displaced households are staying in the school. Damage to the road has made it difficult to distribute relief material to the needy community.
Similarly, in the ward number 1, 2 and 3 of Lahan municipality about 50 households have been displaced. Displaced people are living in the nearby school and Lahan Municipality assisting them with food support. Seven pregnant women, five lactating women are living together in school, it is very difficult for them to keep in mass as they are sick due to communicable disease. The affected people are feeling the hardest time as they don't have any extra dress to change, and adolescents are finding tough to live in mass together.
The cases of gender-based violence are also identified in Siraha district. One rape case, one attempt to rape case, two domestic violence case have been already reported to the Police.
Udayapur
About 14 houses have been fully inundated, 20 houses were flooded, 1,433 affected people have been now returned in the home, 318 people of 68 households are living in neighbor house.
Overall, there is scarcity of food, clothes, and shelter and there is a lack of basic medicines. Since school and health posts are also affected, there is lack of health services. Most of the hand pumps and well have been buried. The flood-affected people said they were increasingly worried about disease outbreaks and violence that occur to the women and adolescent girls. Since the cases of gender-based violence have been started to document and report to the police.
The key highlights from different clusters are below:
Education : 570 schools have been affected according to the education cluster's initial field report.
Food and Security : Standing crops such as maize, vegetables, early rice and rice seedling were reportedly damaged due to inundation of agricultural lands by floods in all the Terai districts of Province 2 and Province
1. Damages were also reported in Livestock and fish farming/Aquaculture.
Health : Several roads were damaged by the floods and landslides due to which accessibility to the affected sites is challenging.

Nutrition : The flood has impacted the nutrition situation of children under the age of five and pregnant and lactating women. This is due to the lack of counselling services for those breastfeeding in flood affected areas and the lack of appropriate food for young children, pregnant and lactating women while they are displaced.
Water, Sanitation and Hygiene : According to Wash Cluster, It is estimated that 47,858 tube wells contaminated, around 23,929 tube wells damaged, around 43,072 latrines not usable currently, and around 12,922 latrines has been damaged.
Further Support and Interventions required
As per the present data collected with a motive to support the women and girls in the affected areas, In Siraha there is need to establish Sneh Kendra (women friendly space).
Action 1: Immediate assistance: Since there is urgent need to support people, women and their family with clothes, food and tents, WOREC and her team will be mobilized to distribute a bag with food and clothing items including Dignity and WASH Kit for the immediate support to the survivors. At least 300 women and her family will be provided with this immediate support.
Action 2: Establishment of Sneh Kendra/ Female Friendly Space (FFS):
Establishment of Safe Shelter - WOREC team in the respective districts will coordinate with the DDRC and district protection cluster to find space to establish Sneh Kendra. Where a camp is set up at schools or health posts then a room will be allocated for Sneh Kendra.
Bed- Mattresses or floor mats will be required to protect women from damp floor.
Psycho-social First Aid (PFA) and Psycho-social counseling services- One community based counselor will be required for individual or group counseling.
Pregnant women, lactating mothers, elderly unwell women and women with disabilities will be provided with the shelter.
Dignity Kit and WASH Kit– A kit containing sanitary napkins/pad, undergarments, clothes to change (this can be added little later as well), water, hand wash, tooth paste, food, first aid kit and a separate bed (on the floor) to take rest by recent delivered women need to make availed so that women can use when they are in need of these materials.
Food and clothes support- Hot and nutritious meals and comfortable dress for pregnant and lactating women will be provided.
Action 3: Health Camp and Mela: Since there has been large number of causality and high chances of epidemic of water borne diseases to spread, WOREC is also planning to conduct mobile women health camp and mela to prevent women and girls from communicable diseases including reproductive health problems. At least 2-3 health camps will be organized in each affected districts to provide immediate health services to the people who have no access to health services. The health camp will not only provide treatment services rather also focus to orient and educate community people especially women and girls about their body, it's part and their rights to bodily integrity including practicing menstrual and sanitary hygiene. The health camp / mela is expected to provide services to more than 5000 people in the affected area.