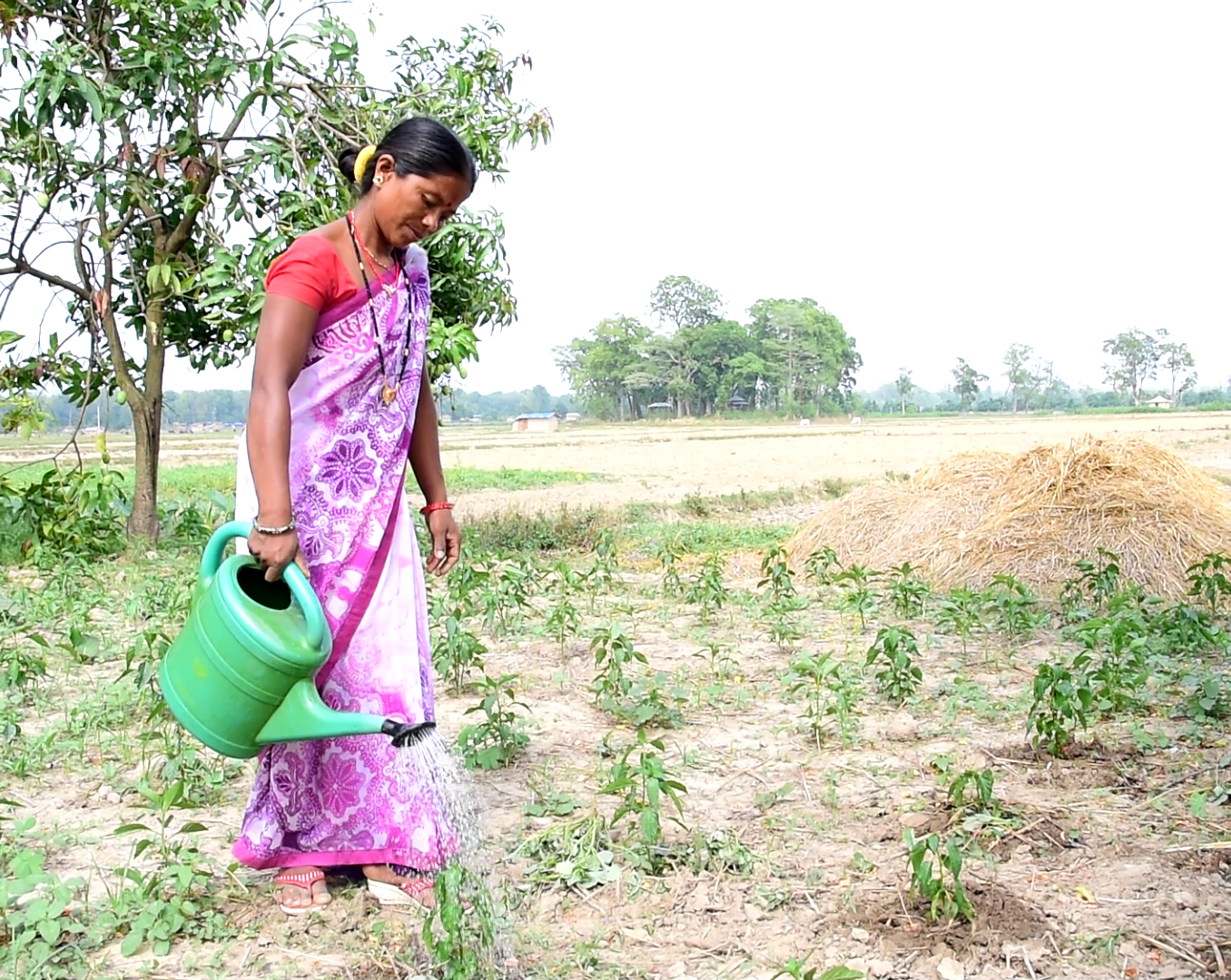 Maya leads an independent life now
26 Feb 2019
"It never occurred to me that my husband would leave me one day with my two children behind. I always believe he has a profound love for me but he left without any reason with a son and a daughter behind", Maya, 35 from Kailali recalls one of the sad chapters of her life.
Maya happily married the man whom she loved for two years.
"My parents were against love marriage so I ran away with the boy at the age of 17." And her happiness had no boundaries after the birth of a son and a daughter.
Maya could not continue her study as her parents believed that daughters do not need education. So, she sent her husband in the city to continue his studies while she did farming, household chores and looked after children. After taking part in a health training, she started a job if Female Community Health Volunteer (FCHV). Soon, her husband started a job in Dhangadhi. Then her kids moved to Dhangadhi for further studies in better school with her mother-in-law. Now, she stayed alone in the home looking after the farm and cattle.
Her life was moving soothe until one day, her mother-in-law called with a message that her husband had ran away with another girl. "I was so desperate thus reported the incident to Maiti Nepal. We tried to find him but all our effort went in vain. After the incident, I was upset and cried abundantly. I was in the state that I could not find any option in my life."
For the next five years, his whereabouts were not known neither he returned to the village.
"I placed all my efforts to find him. In a hope to locate him, I even visited fortune tellers, offered goats and pigs." They made her believe that he still loves her and will soon return to her. Believing them, she offered almost all her earning from job and farming.
"Although I worked as a health worker, I could not console myself and wept everyday remembering him until I came in contact with WOREC where I was provided with psychosocial counseling".
"After psychosocial counseling, I found the real essence of life thereby encouraged me to live a life for children's future. I now realised how I have spoiled my life in his search. Then I gradually started participating in training on women health, violence against women and human rights. I became a member of group of violence affected women in our village where all women's share their pain, console each other and support survivors of violence against women."
"Whenever I was worried, I shared my feelings with a psychosocial counselor and I engage myself in farming which I am good at." I found them encouraging and supportive and listen whatever I share. Friendly behaviors and a series of psychosocial counseling helped me fight against my pain and healed my burning heart.
As a member of the survivor's network 'Agrani', she now takes lead to support survivors of violence against women in her community.
After the training in bio-intensive farming, they produce fertilizers and pesticides from local resources to grow organic vegetables. She started commercial organic farming and was soon renowned among the local farmers. This had a very positive impact on her living and economic independence, while engagement in training apart from farming was the life turning moment for her.
"I was alone [without husband] at the time of trouble. I raised my children with difficulty however I still eagerly wanted to see him at least once in my life despite knowing he was the reason for my sorrow and pain. To my surprise, I was still expecting him back in the home. He returned after a decade with second wife and a son to claim the property. When his second wife assaulted me physically, I lodged a complaint to the police station and the case closed with two-thirds of the land in my favor."
Maya who faced an indefinite struggle to find her husband, raise children in the state of the psychosocial stress, now believes in herself and is devoted to working for a better future of the children nevertheless the fact that she lived in a society where her identity depends upon the husband.
"I purchased land with saving from farming. I am happy that my children study in good English medium school in the city. I call them every day to know about their study. Nothing is easier in life, not even growing the vegetables. However, my happiness lie's in children's better education and future.
Maya, a survivor once is now a change-maker who defends the rights of women and inspires other people in her community.