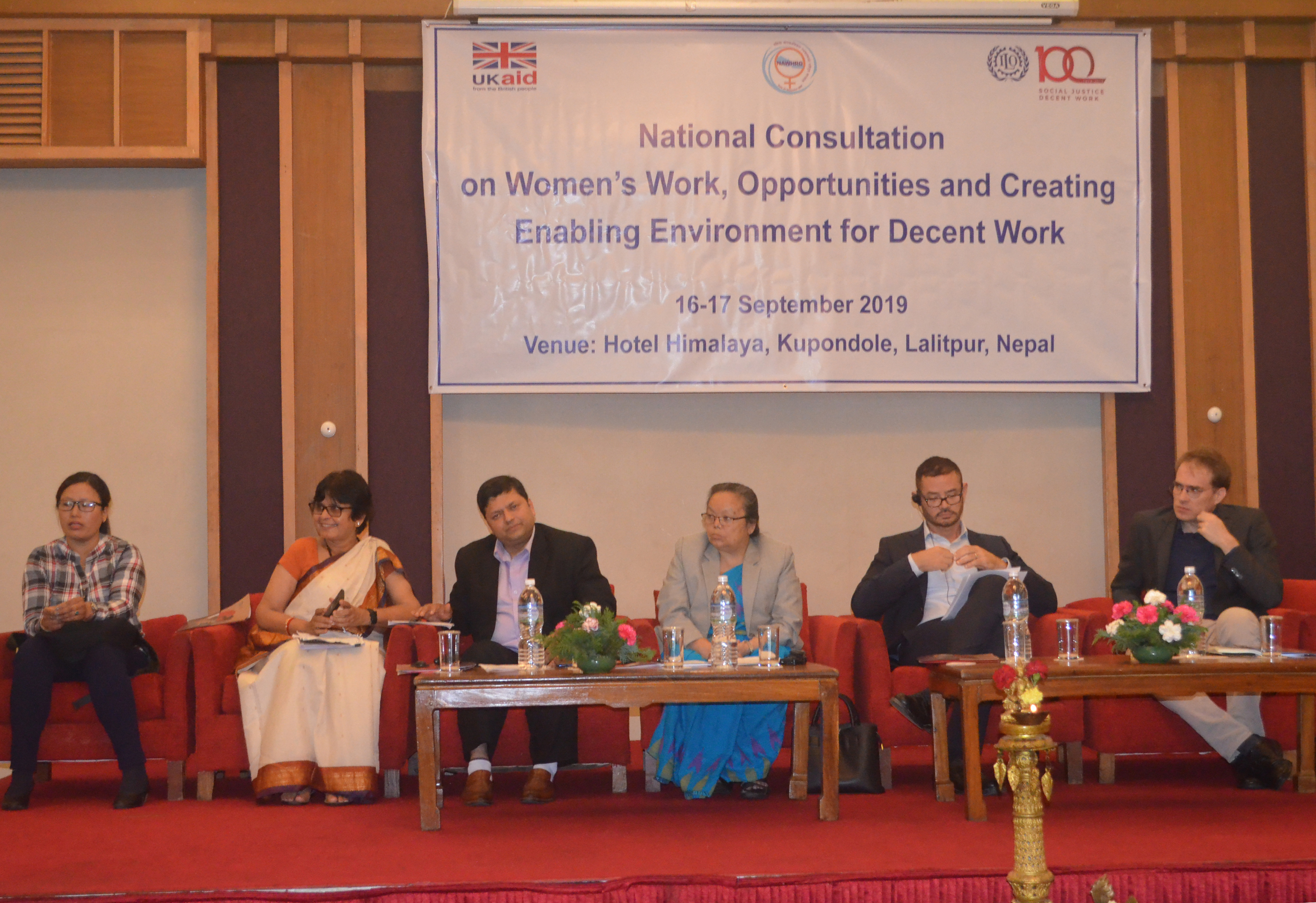 Women's Work, Opportunities and Creating Enabling Environment for Decent Work
17 Sep 2019
National consultation on "Women's Work, Opportunities and Creating Enabling Environment for Decent Work" was organized on 16-17 September 2019 with objective to change the perception towards works done by women while creating enabling environment and opportunities to establish women's work as decent work.
The first day of national consultation formally started with the inaugural session of lightening the lamp by Honorable Minister Tham Maya Thapa who is also a chief guest of the two days national consultation.
Chairperson of National Alliance of Women Human Rights Defenders (NAWRHD), Dr. Renu Adhikari in her welcome remarks stated that all works done by women including all care work have economic value; however women's work gets restricted and devalued because of patriarchal structures. Therefore women's work should fall under the definition of decent work and needs to be recognized and valued. The patriarchal structure has control over women's work, body and mobility but women's movement has raised voice on these three prominent issues. Unless these issues of women are addressed, prosperity of country could not be achieved.
National consultation consists of participation of local to national level policy makers, providing opportunity to way forward for national advocacy to create an enabling environment to recognize women's work.
She concluded her remarks quoting Dr. Amartya Sen "Recognizing that women stand at the crossroads between production and reproduction between economic activities and the care of human beings and therefore between economic growth and human development".
Mr. Richard Howard, Director of the ILO Country Office for Nepal stated that this consultation is about decent work for women and the value of women's work. What is women's work and how is it different from men's work? The notion changes over time and across culture. As women gain power, they are able to negotiate the rights and they have access of production. If we can bring women to table at local level to discuss their needs then it can be said that we have brought change and brought them in entrepreneurship. At the local level, men are migrating to countries of destination in search of jobs and there has been shortage of human resources so traditionally perceived men's work such as the sector of construction, electrician and so on is to be handed over to women and bringing women in these sectors is must to break the typical gender roles. Restrictions of work for women is not a solution, women should have freedom on what to work, where to work and when to work.
Fuduma Sherpa, representative of Shramjibi Mahila Sanjal that was formed in the first phase of National workshop last month, talked about the issues and challenges related to women's work. Being a laborer working at trekking sector as trekking guide, she is representing the three sectors which has not been formally recognized, domestic worker, entertainment sector and trekking sector. The labor act is not properly implemented in our sector, the social security is also not applicable.
Ram Kumar Phuyal, Member of National Planning Commission (NPC) shared on the work done by NPC to ensure decent work for all. Decent work helps to achieve prosperity and this has been understood well but implementing tools and common understanding of decent work is missing. Decent work is connected with quality of work, efficiency, productivity, working environment and it is a fundamental right of all human being. Nepal government has focused on social security - 12% of national budget, 24% of people would be included and is aimed to incorporate 60% of people, with the inclusion of women, children and elderly people.
Honorable Minister, Ms. Tham Maya Thapa, in her closing remarks mentioned that the work done by women in Nepali society is not properly valuated, recognized and quantified. Further, she stated that there is a need to properly value and make women's work visible in data.
The formal session ended with the vote of thanks from Ms. Srijana Pun, board member of NAWHRD.
During the daylong consultation, two panel discussions were organized on women's work.
Panel discussion was on the issue of "Transformation of women's work: An agenda for prosperity", moderated by Honorable Dr. Bimala Rai Paudel, Member, Sustainable Development and Good Governance Committee, National Assembly. In this prosperity movement, we cannot achieve prosperity unless women's work is calculated. Parbati Basnet, Director, Tarangini Foundation and Murari Kharel, Director at National Human Rights Commission were the speakers of the panel. First, presentation, the situation of women's work and the way forward. She shared the findings of the research on the issue of women working at entertainment, trekking and internal domestic work sectors. Second presentation was on challenges in ensuring the rights of working women within the country. The moderator made her important remarks to conclude the session," It is not about women's issue or human issue, it is about country's prosperity and economy."
The second Panel discussion was on the "Realizing women's right to work: tools to consider" moderated by Honorable Ms. Dil Kumari Rawal, Chair of National Concerns and Coordination Committee, National Assembly. The speakers include Mr. Igor Bosc, ILO, Mr. Yubraj Luitel, ANTUF and Mr. Ghanshyam Pandey, Mayor of Tulsipur, Dang spoke on concept of decent work, labor law and current strategies taken by the local government to improve worker's rights and access to decent work.
The two event is attended by over 60 representatives from local government representing Mayors and Deputy Mayor, government officials, national human rights commission, national planning commission, parliamentarians, women human rights defenders, civil society organizations, trade unions, International Labor Organizations (ILO) Nepal, International Domestic Workers Federation (IDWF) and women workers from different sectors such as domestic work, entertainment and tourism. Tomorrow, the consultation will discuss and focus on identifying decent work opportunities possible at local level and agree on role of elected representatives and women human right defenders in ensuring decent work conditions for women workers.
The consultation was organized by National Alliance of Women Human Rights Defenders (NAWHRD) with support of International Labour Organization (ILO) .