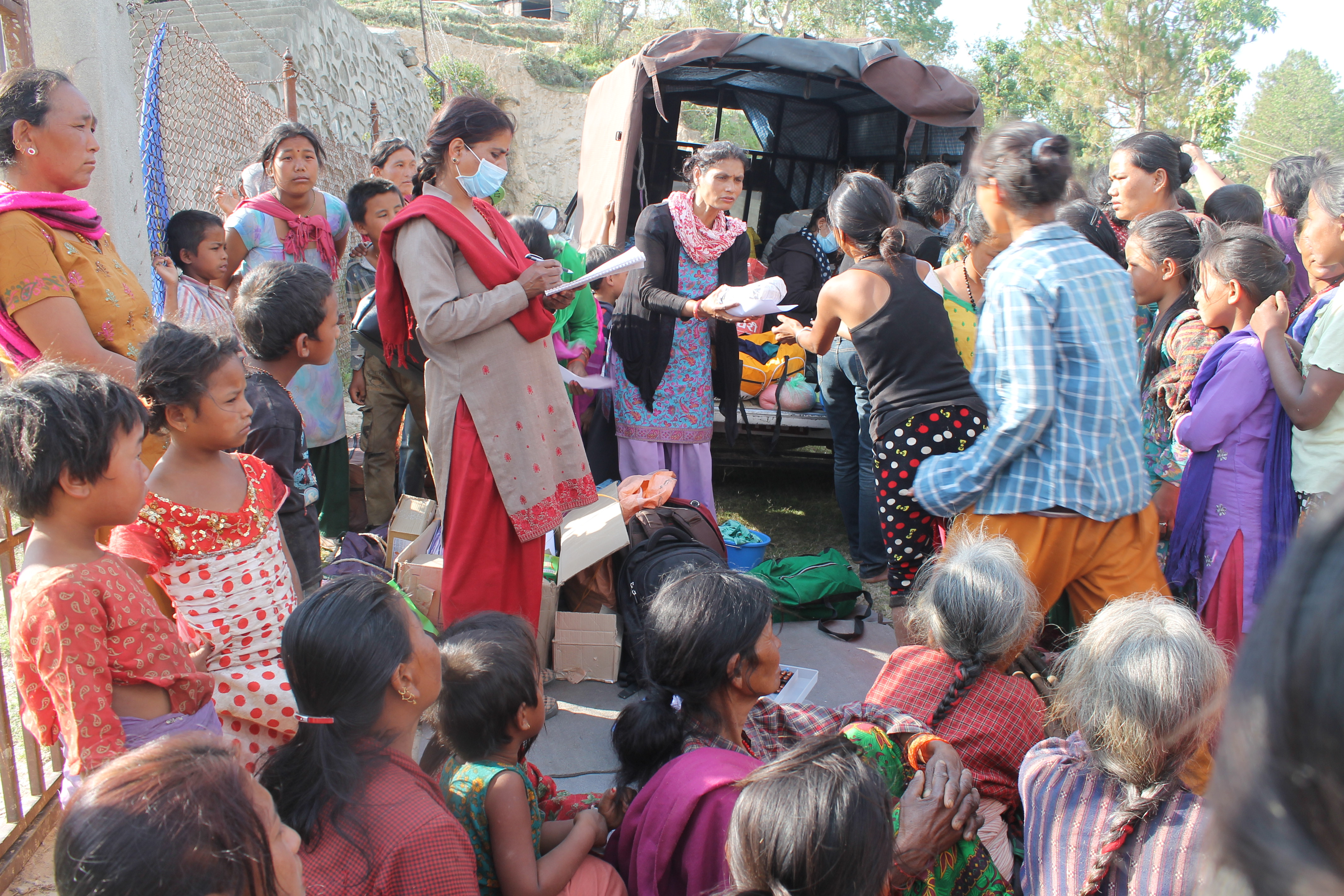 Responding to women's need in Nepal earthquake 2015
24 Jun 2019
Women's Rehabilitation Center (WOREC) took lead to reach out to earthquake-affected communities from the third day of the disastrous earthquake of 25th April 2015. The earthquake had turned everything into rubble. WOREC too got affected including several team members. Nevertheless, they stood together with people in need. The support work started from Kathmandu. Later it got extended to 12 earthquake-affected districts in coordination with the National Alliance of Women Human Rights Defenders (NAWHRD). Since the main objective of the relief work was/is to be with women and support them with love and compassion, the organization called its initiative Sneha Campaign (Sneha meaning love and compassion).

WOREC's safe spaces were established in 12 various earthquake-affected districts- Kathmandu, Bhaktapur, Lalitpur, Gorkha, Rasuwa, Okhaldhunga, Ramechhap, Sindhupalchowk, Dolakha, Dhading, Kavre, Nuwakot. The relief activities were mostly carried out while keeping four aspects in mind. We provided safe space to adolescent girls and women, psycho-social counseling to the survivors, supported the survivors on need-based approach and provided capacity building to women through orientations, developed feminist leadership and human resources on different issues like GBV and hygiene during menstruation, sexual and reproductive health, among others.

The Snehacampaign was restlessly conducted into 3 phases:

The initial phase was carried out with the theme "relief with dignity". As an organization working for women's empowerment and their well-being, WOREC was clear from the very first day that psychosocial support is one of the key elements to consider even while distributing relief materials to women. For us, it was imperative to make women feel that they are not alone. Standing together with woman in need and making her feel that she and her family are not alone was very important. Although WOREC distributed relief materials to the survivors, those were distributed with the aim of providing psychosocial first aid and psychosocial support. There was immediate relief including food, tents, dignity kits and basic medicines provided to the earthquake survivors. Total 20211 women, girls, and children received dignity kits whereas 5239 affected people were provided with Non-food items in the 12 districts most affected by the earthquake.

Apart from providing immediate relief, WOREC, the second phase was focused on providing psychosocial support in a deeper way to those who were identified as needed during the first phase of relief distribution. Besides, activities were planned to provide psychosocial support through established safe spaces, mobile camps, and door to door visits. All the cases that needed deeper support was identified during mobile camps and outreach programs. WOREC provided psycho-social counseling, supported affected women and girls on need-based approach through orientations, developed feminist leadership and human resources on different issues like GBV, Health, and hygiene during menstruation, sexual and reproductive health. Total 14,457 women got benefit from this support and services.

Many people lost their homes, properties and income source during earthquake. This stressed out people. They are worried regarding how to look after themselves and their families. While interacting with the survivors, it was found that many people, involved in daily wage work had lost their jobs. Many women, during the counseling sessions, revealed that they wanted to get involved in skill development trainings so that they could support their family financially. More importantly, WOREC noticed that womentraumatized by earthquake needed to get involved in one activity or the other to divert their mind and forget their fear. As a result, assessing the need of the survivors, women from Lalitpur, Bhaktapur, Kavrewere provided with various livelihood support to restore their life. More than273 Women were supported to secure food security and livelihood opportunity to substantiate their current income to build resilient community. Women were provided with curd-making, handicraft, seasonal and off seasonal agricultural trainings and Shoe Making training during the last phase of Sneha Campaign. An amount of Rs. 750,000 was segregated as seed money so that women survivors interested to venture their own business could be supported. It was very clearly realized that without supporting women with livelihood activities, providing psychosocial support was impossible. Women needed to be engaged in some activity and realize that their lives have not been lost yet. That is why WOREC included livelihood component in the program in spite of being an organization responsible to provide psychosocial support.