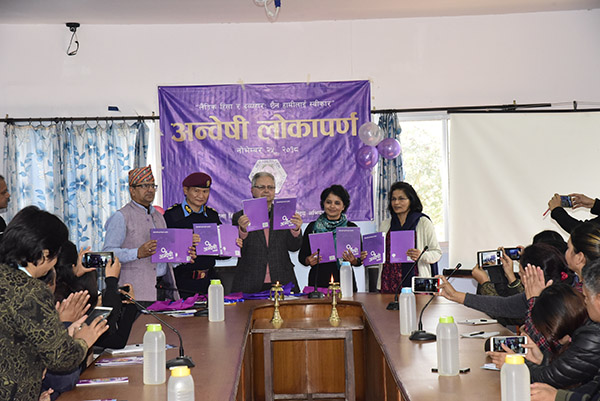 Anbeshi 2018 : Status and dimensions of violence against women in Nepal
20 Jun 2019
This year WOREC documented and analyzed 1,751 cases of violence against women in its publication Anbeshi 2018. Among 1,751 recorded cases domestic violence accounts for 65% of VAW, followed by social violence (17%) and rape (7%).
Types of violence against women
Age group of survivors
Relation of survivor with perpetrator
Domestic Violence
Domestic violence is the highest reported category of violence against women as it makes upto 65% (1140). The data shows women suffered violence from their husband (76% of perpetrators) and family members (24% of perpetrators).
Social Violence
Among the reported cases 17% (295) women suffered from social violence. 54% (160) of social violence was perpetrated by neighbours while 18% (54) was by family members.
Rape
A total of 130 cases of rape was reported in WOREC which is 7% of all cases recorded along with 2% (37) of an attempt to rape. Of the total cases, 46% (59) were perpetrated by neighbours, 16% (21) by family members and 12% (16) by intimate partners. It is important to note that 63% (82) of rape survivors were children below 16 years and neighbours perpetrated 46% (59) of cases followed by 16% (21) perpetrated by family members.
Sexual abuse
Sexual abuse accounts for 4% (72) of reported cases where intimate partners were responsible for 33% (24) of cases.
Murder
13 cases of murder and 6 cases of attempt to murder were documented this year where 62% (8) of reported murder was committed by the husband.
Trafficking
This year WOREC documented 11 cases of trafficking with 19 cases of attempt to trafficking.
Suicide
A total of 10 cases of suicide was documented by WOREC where women were compelled to commit suicide because of blaming in character, forced marriage and torture.
Age group and violence against women
According to the data, women of age group 17-25 years were affected mostly by violence against women. 37% (643) survivors are in 17-25 years age group, 32% (564) survivors are in 26-35 and 13% (222) are below 16 years.
Source: Anbeshi 2018, WOREC
WOREC acknowledges the problem of underreporting cases of VAW, and as such Anbeshi 2018 does not claim to represent the full picture of VAW in Nepal, rather it is expected that this report will provide a glimpse of the violence suffered by women across the country.
Anbeshi 2018 is prepared on the basis of collected and documented cases of VAW from July 2017 to June 2018 by WOREC and Women Human Rights Defenders (WHRDs).