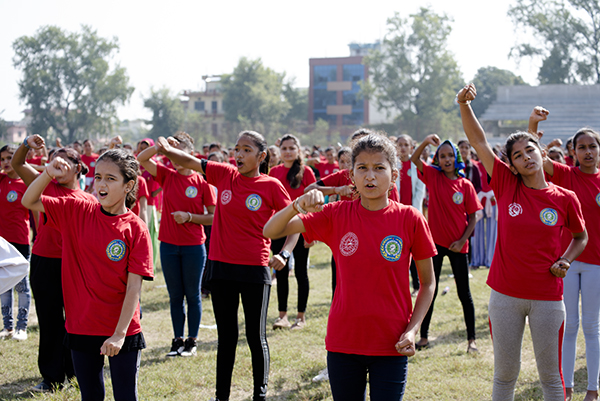 Self Defense Women Campaign
07 Feb 2019
While opportunities for girls have increased in sports few girls make it to the ground due to lack of environment. Many times girls struggle to remain in playgrounds and build their level of confidence. But imagine over 1000 girls practicing and building up skills like martial arts which not only boosts their self-esteem but also helps them protect in event of sexual violence and other forms of violence against women.
This week in Kailai, over 1500 girls and women are joining self-defense women camp in midst situation of rising incidents of rapes and sexual abuse throughout the country. Defense camp will see participants from different districts of Sudurpachim Province.
The event is collectively organized by National Goju-Ryu Karate-do Association Nepal, Ministry of Social Development/ Sudurpaschim Province Government, Dhangadhi sub-metropolitan city, various municipality and rural municipality, district women human rights defenders network, WOREC, Working women Journalist and other organizations of Kailai.
Date: 6-12 October 2018
Location: Dhangadhi Stadium, Kailali
१५०० बढी बालिका तथा महिलाहरु आफनो सुरक्षा आफै गर्ने सिप सिक्न आज देखि ७ दिन सम्म आत्मरक्षा शिविरमा सहभागी हुँदैछन् । यसले उनीहरुमा आत्मविश्वास अभिवृद्धि भई बलात्कार र महिला हिंसा जस्ता अपराधिक घट्नाहरुमा प्रतिकार गर्न सक्षम हुनेछन् ।
कार्यक्रमको समुदघाटन सुदूरपश्चिम प्रदेशका माननीय मुख्यमन्त्री त्रिलोचन भट्टले असोज २० गते शनिवार विहान धनगढी रगशालामा गर्नुभएको छ । ७ दिन सम्म सञ्चालन हुने शिविरमा सुदूरपश्चिम प्रदेशका विभिन्न जिल्लाका महिला तथा बालीकाहरु सहभागी भएर तालिम लिदै छन् । देशव्यापी अभियानका रुपमा सञ्चालन गरिने यो शिविर सुदूरपश्चिम प्रदेशबाट शुरु भई अन्य ६ वटा प्रदेशमा पनि आयोजना गरिने छ र प्रदेश नम्बर १ को विर्तामोडमा यो अभियानको समापन हुनेछ ।