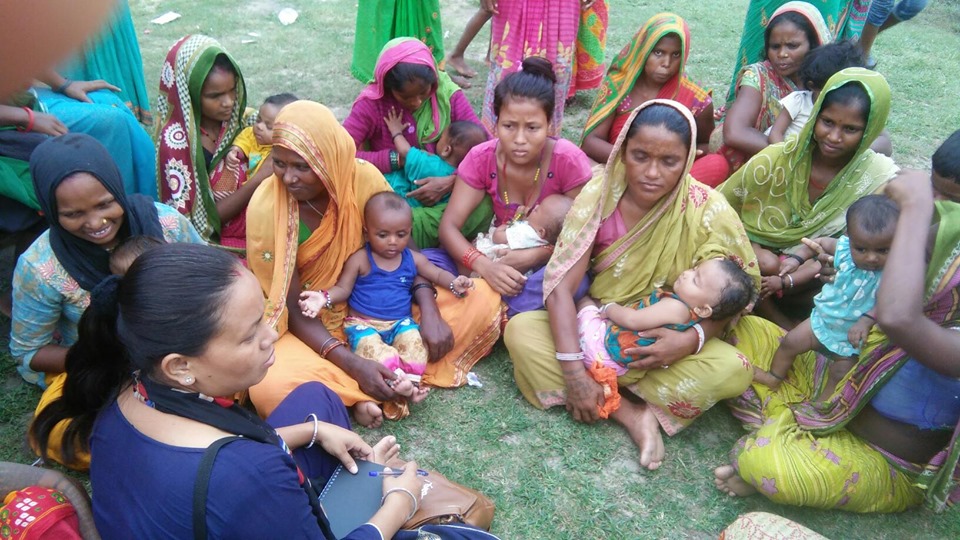 Heavy rain, flooding makes life difficult
15 Jul 2019
Thousands of people in Nepal are affected by rain-induced disasters in Nepal. Nepal Police reported that 63 people were dead, 30 are missing and over 33,000 people are affected. Province 1,2 and 3 are among the most affected.
Among the affected districts, WOREC has its presence in Siraha, Sunsari, Morang, Udayapur and Dhanusha.
Updates from districts
Udayapur
Flood in Udyapur has affected lives and caused damage to houses, road, toilet, and property. Families have lost livestock and crops, homes are waterlogged and drinking water supply is disrupted. Local business like poultry, mushroom cultivation, and livestock was flooded and destroyed by heavy rainfall of 5 days. Displaced people have taken shelter in relative's homes and schools.
Bir Bahadur, together with two daughters and a son, took shelter in neighbour's house after his home was completely damaged by the flood.
Bir Bahadur who is physically unable to work is further troubled by the flood, "My wife is daily wage labourer and we depend upon her income. The road is damaged so my wife who had gone to Kathmandu is unable to return. This has made our life more miserable."
According to the data collected so far 30 pregnant women, 33 lactating mothers and 16 women with a disability were reported to be affected by floods.
In Belaka Municipality, WOREC is supporting people through its information and psychosocial counseling centre.
Sunsari
Almost all area of Sunsari is affected by the flood damaging 324 houses completely.
Around 200 households have been displaced in Inaruwa municipality ward 1,3,6,7 and 9. Likewise, Harinagar rural municipality, Dewangung municipality, Narsing Bhokra Rural Municipality, Gadhi Rural Municipality, Itahari sub-metropolitan city, Barju Rural Municipality, Duhabi Muncipality are affected by flood and people are taking shelter in schools. WOREC and other human rights organization is supporting the affected people by providing relief materials and food. In this difficult situation, WOREC will be with women to support them with love and compassion through Sneha Kendra (female-friendly spaces)
We are supporting the pregnant and lactating mother through Sneha Kendra (safe space for women) in Duhabi-2, Sunsari. 2 pregnant and 4 lactating mothers are currently in the Sneha Kendra. This safe space established during the heavy flood last year was handed over to the local government.
75 pregnant and 60 lactating mothers have reported of homes being waterlogged.
Siraha
Over 50 households were displaced due to flood in Lahan Municipality 1 & 2 in Siraha. In fear, they escaped for shelter without necessary clothes. Lactating mothers shared infants had trouble sleeping because of mosquito bites. Pregnant and lactating mother reported falling ill.
Read more on Monsoon Flood Situation Updates
Related:
WOREC's response to 2015 Nepal earthquake
Building together after crisis from WOREC Nepal